Feb 25, 2013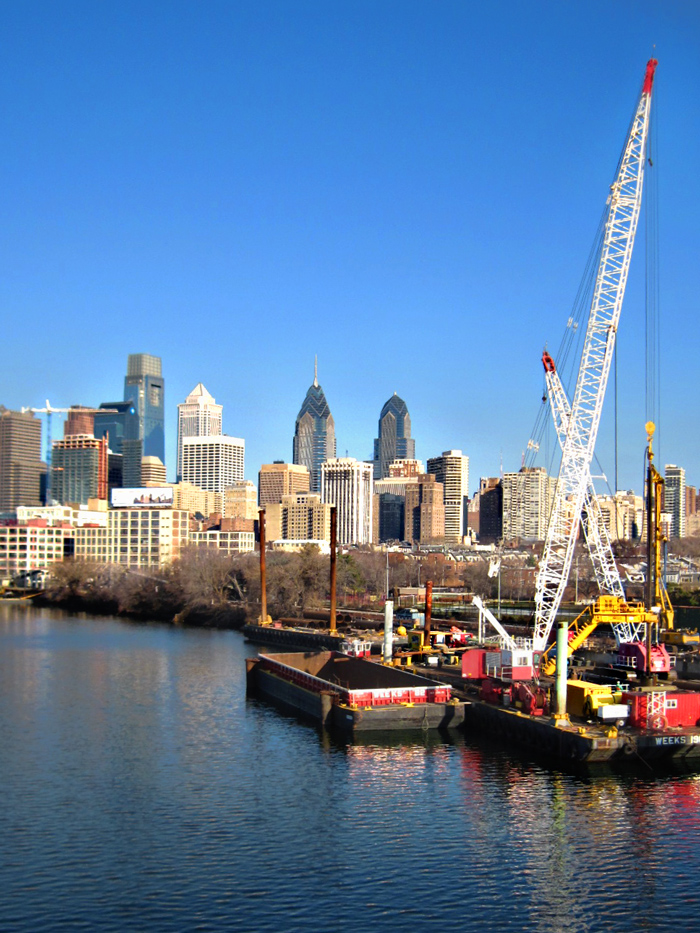 Yesterday, we caught the view from New York City's High Line rails-to-trails boardwalk, a park that winds along the western edge of lower Manhattan, thirty feet up in the sky.
Today's glimpse of a tracks-to-boardwalk project is in Philadelphia, alongside the Schuylkill River, where barge-mounted heavy equipment is currently driving pilings into the riverbed for a boardwalk that will soar out over the water to extend an existing twenty-plus-mile asphalt biking and walking path.
The asphalt path follows an abandoned railroad bed downriver from Valley Forge past Fairmount Park and the Philadelphia Art Museum and on into Center City. But at Locust Street, the trail ends abruptly, crowded off the riverbank by half a dozen railroad lines that are definitely not-yet-abandoned.
The plan is to extend the path southward by snaking it out over the river as a boardwalk with observation platforms and maybe some fishing decks. (Although the Schuylkill is a bit shy of what you'd call a pristine river, there are definitely fish swimming in it, and they are catchable, if not eatable.)
After about half a mile over water, the new boardwalk will pass under the South Street Bridge and then curve back onto dry land for the remainder of its route. It will terminate in southwest Philly at Bartram's Gardens, an eighteenth-century homestead where America's earliest botanists planted the New World's first collection of botanical curiosities.
Planned completion date for the boardwalk is . . . early 2013, or so it is written. Whenever.
cityscape
railroad
Philadelphia
work
Schuylkill River
skyline
crane
barge
(Image credit: Tina Lackeos)