Can You Hear Me Now?
Aug 3, 2011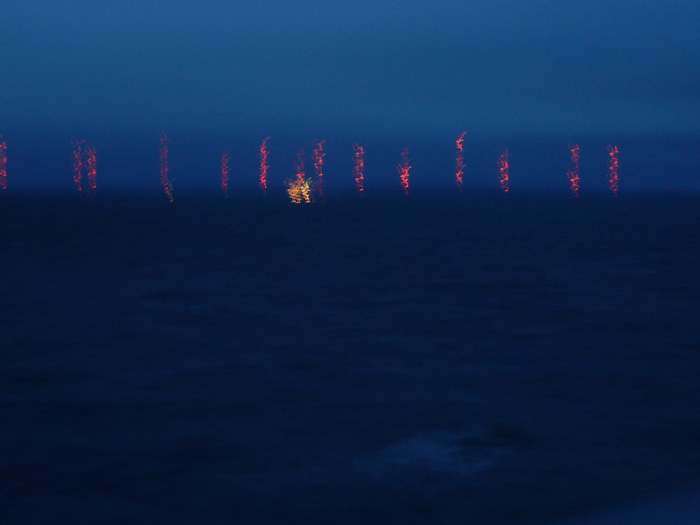 In hopes of maintaining secure communication with its ships and submarines at sea, no matter what, the U.S. Navy maintains arrays of thousand-foot-high Very Low Frequency transmitter towers at three locations around the world. This is the Navy's Cutler array, the largest and most powerful radio installation in the world, with 26 towers located on a peninsula at the edge of the Atlantic Ocean in downeast Maine, near Machias.
Cutler, constructed in 1961, is 100 percent Cold War technology: no GPS, no internet, no cellphone network. The biggest towers in the world were built here because this station services vessels in the Arctic Ocean as well as the Atlantic and Mediterranean, and naturally occuring electromagnetic pulses in the Arctic–the Aurora Borealis–can interfere with all but the most powerful radio signals.
The transmitters here run on power generated on-site and distributed to the towers by underground wiring. Underground wires also extend far offshore under the ocean, to maximize communication with submarines. There are no naval personnel working in Cutler; a civilian crew maintains the site, which sends out encrypted signals generated at a base in Norfolk, Virginia.
Although this shaky picture, which was taken with a handheld camera on a dark and cloudy night, suggests a somewhat haphazard string of towers, they are actually arranged in two identical clusters, which can operate separately or together. Each cluster can be shut down as necessary for maintenance. There's a problem, however, in the part of the installation around the power plant, where the two clusters are so close to one another that the electromagnetic field can be hazardous to humans, even when one of the clusters is shut down.
This area of the installation is called the Bowtie. People doing maintenance try to work as little as possible in the Bowtie, because even if they are working on towers that have been shut down they may still be exposed to dangerous electrical radiation from nearby still-active towers.
Because the Navy requires that at least one of the Cutler clusters must be functioning at all times, the towers in the Bowtie area of the installation have seen little maintenance over the years. In particular, they have never been painted, and they are now fifty years old. The civilians onsite requested a four-month shutdown of the entire array to complete the painting, but the Navy said no.
I predict one of two probable resolutions: either they'll run out of money for the paint job and just let the salt and snow do their thing on the thousand-foot towers, or else they'll redefine the safety standard for electromagnetic radiation so that working in the Bowtie magically becomes safe.
Can you get cellphone service on submarines?
Maine
Navy
night
seascape
water
submarines
Atlantic Ocean
towers
Cutler